---
Letters
example
processing
for-loop
typography
100-days-of-code
---
size

(

500

,

 

500

);





int

 

rows

 

=

 

10

;




int

 

cols

 

=

 

10

;





int

 

cellHeight

 

=

 

height

/

rows

;




int

 

cellWidth

 

=

 

width

/

cols

;





textAlign

(

CENTER

,

 

CENTER

);




textSize

(

28

);





background

(

32

);





for

(

int

 

y

 

=

 

0

;

 

y

 

<

 

rows

;

 

y

++){


  

for

(

int

 

x

 

=

 

0

;

 

x

 

<

 

cols

;

 

x

++){



    

//get a random ascii letter


    

char

 

c

 

=

 

'!'

;


    

c

 

+=

 

random

(

93

);



    

//calculate cell position


    

int

 

pixelX

 

=

 

cellWidth

 

*

 

x

;


    

int

 

pixelY

 

=

 

cellHeight

 

*

 

y

;



    

//add half to center letters


    

pixelX

 

+=

 

cellWidth

/

2

;


    

pixelY

 

+=

 

cellHeight

/

2

;



    

fill

(

random

(

256

));


    

text

(

c

,

 

pixelX

,

 

pixelY

);


  

}




}



This code uses nested for loops to draw a grid of random letters.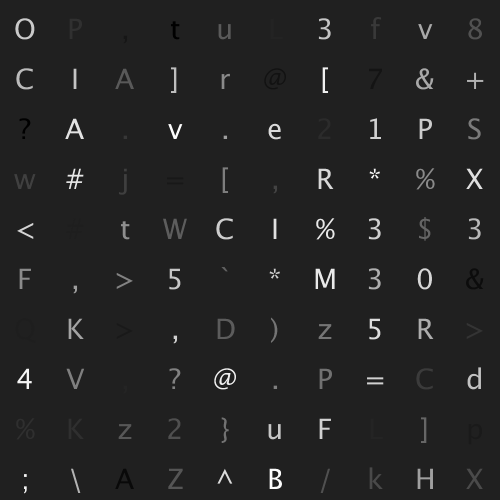 The code uses the char type, which stores an individual letter as an ASCII code. In other words, it stores a letter as a number. This lets us get a random letter by doing this:
char

 

c

 

=

 

'!'

;




c

 

+=

 

random

(

93

);



To understand these lines, take a look at the printable characters chart, and notice that ! is the first printable ascii value, starting with ascii code 33. There are 93 other printable characters. So adding a random number from 0-93 to the ! character gives you a random ascii letter!
You could also use the ascii code directly instead of the letter it represents:
char

 

c

 

=

 

33

;




c

 

+=

 

random

(

93

);



Anyway, this results in a grid of random letters.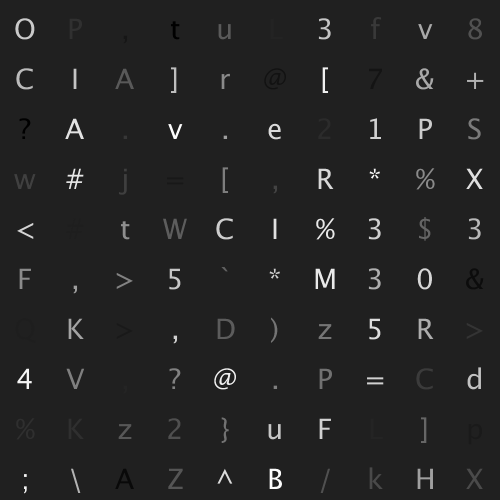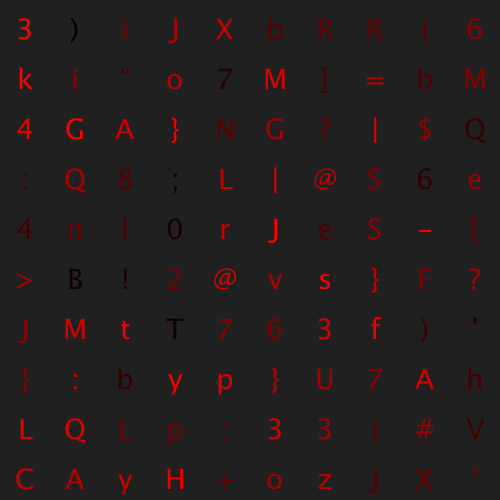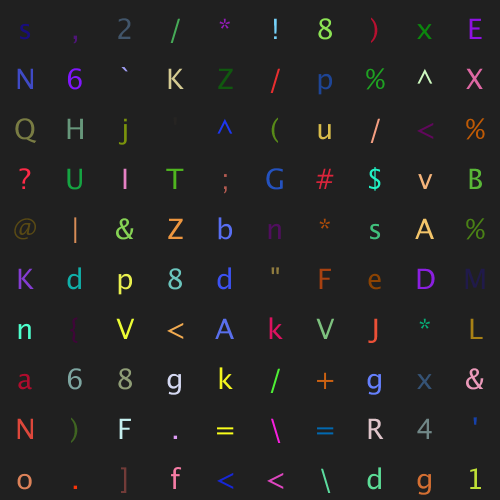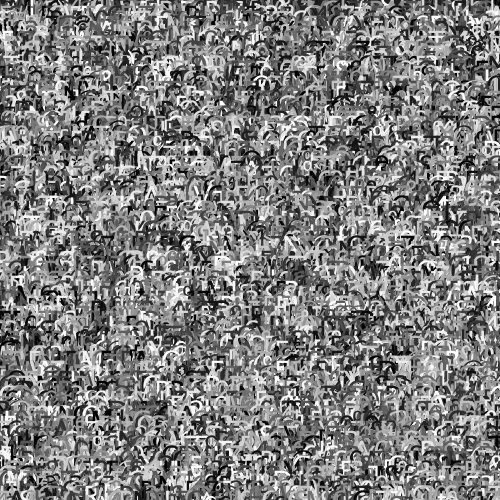 Tweak Ideas
Change the color of the letters. Make them shades of blue, or randomly colored.
Base the colors of the letters off something other than random. Make A darker than B darker than C, or make letters at the top red and letters at the bottom blue.
Change the text size as well as the color. Make letters randomly sized, or make vowels bigger, or make symbols a different size.
Make upper-case letters one color, lower-case letters a different color, and symbols a third color.
---